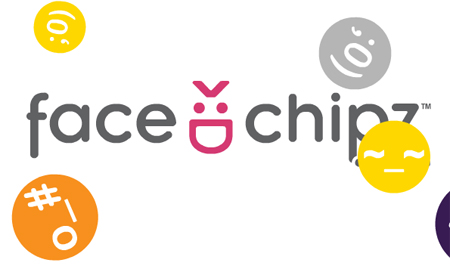 FaceChipz.com has all the features of a real social network – but with one big difference: kids can only communicate with others they've physically exchanged FaceChipz tokens with – no strangers allowed! No one can arbitrarily contact them. No one can search for them. It's the social network they collect, but doesn't collect them.
The Chips have the weight, look and feel of a high-end casino chips — on the head-side is …a face — an emoticon. On the tail side is a code. They are totally collectable — think Pogs meets Webkinz. The initial collection has 200 and they just went on sale at ToysRus.
The way it works is: kids register each FaceChipz token online by entering the unique code on the back of the chip into the FaceChipz code reader. Once the FaceChipz are registered, kids hand them out to friends or to someone they would like to become friends with. The Receiver goes online and enters in the same unique code from the back of the FaceChipz. The FaceChipz database confirms the friendship and the two are linked. Once a FaceChipz token is registered by both the Giver and Receiver, it cannot be used again.