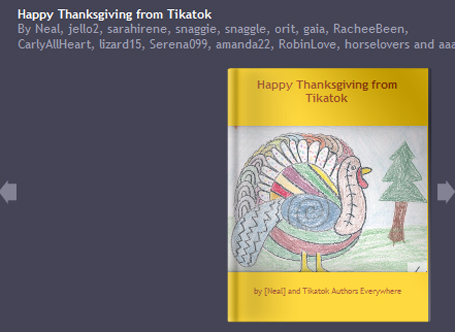 Tikatok.com, a leading online children's book community, makes it possible to give your children's own original stories captured in beautiful hard or soft cover books for between $15-$20 as very personal gifts for family and friends this holiday season.
The books created by children on Tikatok.com are truly one-of-a-kind presents that tell the stories and showcase the artwork of your children in professionally bound books, accompanied with their author page and photo. Unlike traditional photo books, these are the actual writings and illustrations from your children's own creative imagination and something that can be cherished forever as personal keepsake from your favorite authors.
In addition to these books, Tikatok is also offering gift cards to its members as great stocking stuffers or presents for those hard-to-shop-for people on your list. Beginning November 1, gift cards can be purchased on Tikatok.com for $25, $35 or $50. Recipients can use gift cards to order hard and soft cover copies of books they create on Tikatok, or even copies of their favorite books by other child authors. For kids new to writing, these pre-paid cards provide a great incentive for them to create and publish their very first book.