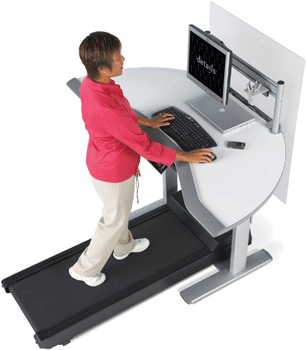 The Walkstation is the fully integrated combination of an electric height-adjustable worksurface with an exclusively engineered, low speed commercial grade treadmill. And it's the first product in the entirely new FitWork category of products from Details designed to bring healthy habits to sedentary workers while they are actually working.
The fully-functional treadmill display console shows speed, calories burned, time and distance. High torque motor is built in to withstand the rigors of slow speeds and possible higher weights for long periods of time. While exercising, the Height-AdjusTable Worksurface allows you to carry on your work comfortably.
UPDATE:
Steelcase Store is giving away three Walkstation treadmill desks (retail value of $4699). To enter, individuals or teams/companies will submit a short 2 minute video and a 200 character limit or less essay explaining why they should receive a Walkstation. Winners will then compete in a two-week walk-a-thon in December and, via Twitter, share their experience. For every mile logged, Steelcase will make a donation to Friends of TOMS, the non-profit organization of TOMS Shoes.